Leaders at Five Bugles Design
Leaders at
Five Bugles Design
---
Robert W. Krzyzanowski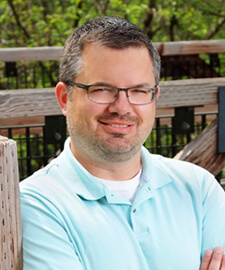 Robert W. Krzyzanowski
Program Manager
Office: (715) 832-4848
Direct: (715) 318-5117
As the Fire Station Program Manager for Five Bugles Design, a division of Wendel, Robert oversees all fire station construction projects throughout the Midwest, from groundbreaking to ribbon cutting, as well as assisting with design throughout the country for all of Wendel's offices. He has almost 20 years of experience workin on public projects, and has been involved in over 25 fire station projects in the past three years and over 60 during his career.
Robbie's Project Management experience includes a variety of emergency service buildings of various sizes – from a 2,880 square foot addition to the Lafayette Fire Station in Chippewa Falls, Wisconsin, to the 44,000 square foot fire station in Verona, Wisconsin. This vast array of experience allows him to assist owners in constructingbuildings that meets their specific space needs and building type requirements.
Robbie likes to get in as much hunting and fishing time as he can, but his real enjoyment is watching his kids play in various sporting events throughout the year.